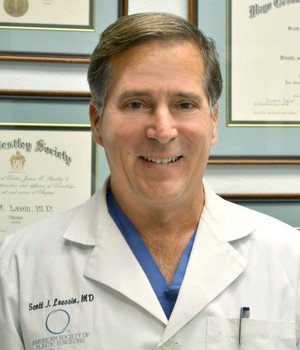 Dr. Scott J. Loessin is a board certified plastic surgeon who specializes in different areas of cosmetic surgery of the body and face. He received his medical degree from University of Wisconsin School of Medicine and Public Health and has been in practice for more than 20 years, delivering remarkable results and achieving a high rate of patient satisfaction through his vast experience in the field. Book your complimentary consultation today and get the look you always wanted.
Dr. Loessin is well known for being an extremely caring person and his concern and compassion for people who do not always have access to plastic surgery has taken him to remote villages in Central America and South America for his operative skills. Dr. Loessin is also an active member of his community and he has joined local churches with humanitarian work, such as feeding the homeless.
Dr. Loessin was born in Milwaukee, Wisconsin and received his medical degree from the University of Wisconsin Medical School in Madison. In 1988, Dr. Loessin completed two residencies in general surgery and plastic surgery at The Mayo Clinic in Rochester, Minnesota. During that time he was mentored and trained to become a double board certified surgeon.
For 18 years, Dr. Loessin has held the position of Chief of Plastic Surgery in Daytona, Florida at the Halifax Health Hospital, which has placed him in the category of one of the most reputable and respected plastic surgeons in South Florida. In addition, Dr. Loessin has received a five star rating from Real Self, which is an online community blog in which consumers rate the cosmetic treatment that they received. In 2012, Dr. Scott Loessin achieved the "Distinguished Member" status at Real Self.
Education & Medical Training
Mayo School of Graduate Medical Education 
Residency , General Surgery
Mayo School of Graduate Medical Education 
Residency , Plastic Surgery
University of Wisconsin School of Medicine and Public Health 
Medical School
Certifications
American Board of Plastic Surgery
Certified in Plastic Surgery
FL State Medical License
Active through 2017
Professional Memberships
---